The best food abounds in the most unlikely of places in Delhi. Here are some of the places to visit for some lip-smacking street food.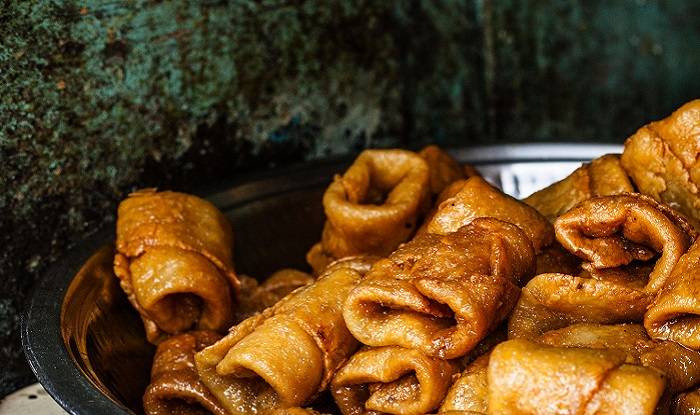 No city can beat Delhi in the street food game. Good food abounds in unlikely places in this city of Djinns including tiny, nondescript thelas, small hole-in-the-wall eateries and mithai shops in blink-and-you-miss-it alleys. This is why Delhi is a delight for gastronomic discoverers, with little regard for the size of their waistlines. The taste of Delhi's dahi badas, pani puri, various kinds of halwas, samosas, jalebis, kebabs, parathas and any other street food imaginable, is undoubtedly unmatched. There are several popular restaurants and eateries that serve appetizing street foods that the locals swear by and that have also charmed thousands of tourists, both national and international.
Here are the top six such places that you must visit to enjoy some delicious street foods in Delhi:
1. Alkauser
This one's an absolute delight for the chicken lovers. Alkauser's has multiple outlets across Delhi and is famous for its galaouti kebab, tandoori chicken, afghani chicken, murgh malai tikkas, biryanis and seekh kebabs. But it doesn't disappoint the vegetarians as well. We've been told that you get the softest and most delicious paneer tikkas over here that are served with green chutney and onions. They're light, with a melt-in-the-mouth kind of texture and one plate is filling for one person. Alkauser's also serve one of the best kulhad phirnis, you are ever likely to have in Delhi. The family behind Alkauser have earned their name serving kebabs to the Nawabs of Lucknow since the 1980s.
Where: Corner of Kautilya Marg, Near Assam Bhawan, Chanakyapuri, New Delhi
Price: Kebabs Rs 170 onwards; Biryanis Rs 280 onwards
2. Parathe waali gali
No food list of Delhi can be complete without the mention of the iconic Parathe waali gali. The jam packed alley that is so crowded that you literally don't get the space to stand, boasts of churning out some of the most lip-smacking dishes in the whole country. Out of the dozens of food shops there, one is especially good- Pt. Gaya Prasad Shiv Charan Paranthe. It serves all kinds of stuffed parathas imaginable from parathas stuffed with dried fruits, cottage cheese, banana etc, to dozens of vegetable stuffings. What's amazing is that all their food is strictly vegetarian! Also, it would be criminal to give their sweet lassi a miss.
Where: Gali Parathe waali in the lane off Chandni Chowk
Cost for 2: Parathas for Rs 15 onwards
3. Natraj Dahi Balle Waala
This tine eatery serves one of the best dahi balla of Delhi. Bhalle are bsaically fried balls prepared from lentils and served with curd and garnished with salt, pepper, mint and coriander chutney and tamarind chutney. Their aloo tikkis chaat is equally good. The place is always very crowded by the chefs are extremely efficient and your order will be with you in a matter of a few minutes, at any time of the day.
Where: 1396, Main Road Near Central Bank, Opposite Paranthe Wali Gali, Chandni Chowk
Cost for 2: Rs 100
4. Kebab Stands in front of Hazrat Nizam-ud-din Dargah
As soon as the evening prayers get done, the lanes in front of the dargah or shrine of the famous Sufi saint Hazrat Nizam-ud-din start buzzing with activity, as devotees spill out of the mosque and approach the kebab stands to satiate their hunger. Dozens of kebab stands and canteens there serve some of the most amazing beef, mutton and chicken dishes with biryani and Indian flat breads as sides. If you're a non-vegetarian, you have to put a meal at one of these canteens on your bucket list, to advance to the stage of a pro-foodie. The shrine itself organizes special langars (free meals) and kawaalis in the evening on Thursdays.
Where: Hazrat Nizam-ud-din Dargah; nearest Metro stations are Pragati Maidan, Indraprashtha, ITO and Jangpura stations.
Price: Kebabs starts from Rs 50
5. Ashok and Ashok Meat Dhaba
Ahoks & Ashok Meat Dhaba has expanded to a total five locations across Delhi, but our favourite one is still the one in Chandni Chowk. The food joint has been serving some absolutely delicious biryanis and butter chicken. In fact, ever dish on the menu of this blessed eatery gives you a great bang for your buck. Mutton is available only on Wednesdays and Saturdays and that too during 1 PM to 3 PM only and you can imagine the crowd appeal of its food from the fact that the mutton dishes are over in a matter of an hour! Their preparations are made in desi ghee which translates in their slightly steep prices, but trust us when we say it's all worth it.
Where: 5820/42, Subhash Chowk, Sadar Thana Road, Near Sadar Bazaar, Chandni Chowk
Cost for 2: Rs 600
6. Ustad Moinuddin Kebabs
Extremely pocket-friendly, but pleasing to the palate nonetheless, the Kebabs at Ustad Moinuddin, whose sheesh kebabs are a hot favourite with the locals and have been so, for the past five decades or so. Some even reckon that these are the best sheesh kebabs you're ever likely to find anywhere in Delhi. There's no wonder then that this place is crowded at all times of the day. The sheesh kebabs are adequately spiced and are served with onion rings and green chutney. We must warn you, you will never be able to stop at just one plate and will go back home, feeling stuffed and satiated and find yourself returning to this absolute gem of a place, time and again.
Where: Lal Kuan, Gali Qasimjan, Chawri Bazar
Price: Kebabs start from Rs 10
7. Bishan Swaroop Chaat Corner
Bishan Swaroop is a must-visit for lovers of the aloo and fruit chaat. The joint specializes in serving chaat and we're in live with their aloo chaat that has perfectly spicy fried pieces of potatoes, served with chaat masala. You can aslo ask for your chattpata potato wedges to be served with slices of tomatoes and boiled chickpeas, but we prefer the classic aloo chaat. They're simple but delicious and their fruit chaat also contains some seasonal and exotic fruits like kiwi.
Where: 1421, Near Ashish Medicos, Chandni Chowk
Cost for 2: Rs 90