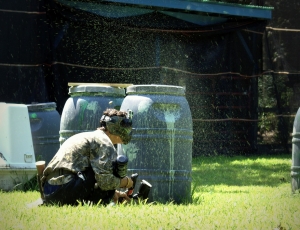 Paintball has come a long way as a hobby and a sport. Just a few years ago, it wasn't uncommon to drive multiple hours to play. And it took days of planning to make sure everyone got enough paint and air for that one day. Before rental equipment was popular, all players had to invest in their own or borrow some from a friend.
In many areas of the US, paintball has now become a mainstream activity and getting started has never been easier. Fields have popped up all over the country and vendors have become much more widespread. The equipment has improved tenfold as well. No more forever fogged up maks or plastic pump markers. Now players have a plethora of gear to choose from and can improve and customize it as they advance skill level.
That being said, it may not be completely obvious how to get started in paintball if you've never played before and don't have a friend in the sport to show you the ropes. Read on for the steps you should take to get started playing paintball.
1. Find a Nearby Field
Do a quick google search for paintball fields in your area. In the case of several options, read some reviews and figure out which is more welcoming to beginners. Find out when "walk on" hours are, or the hours that anybody is welcome to drop by and play (If you're local to Atlantic City, New Jersey, AC Paintball has got you covered. Our walk-on hours are 9 a.m. to 4 p.m. every Saturday). If you have a few friends who would like to try out the sport as well, that's great! Bring them along too. If not, you'll meet plenty of friends on the field.
2. Rent Equipment
Don't go out and buy full gear before you've tried the sport out. It can be a sizeable investment, so you first want to make sure it's something you really enjoy. The good news is, most paintball fields offer complete equipment rentals included with the price of admission. Do a little research on the field beforehand to confirm this. Ideally, you'll just show up and be completely outfitted with a mask, other safety equipment, a marker (gun), air, and paint. No advance planning or investments required!
3. Do a Little Research Beforehand
While you won't need to buy or bring anything with you the first time you play, it helps to be a bit familiar with the game. Find out what type of fields and play styles the facility offers and read up on them. The most common is woodsball and capture the flag. If you've ever played capture the flag as a kid, you basically already know how to play that style. Just imagine shooting other players with paint instead of tagging them out!
Find out if the facility recommends a specific type of clothing. It's a good idea to at least wear long sleeves and long pants, depending on the weather. Check out some paintball etiquette and safety tips as well.
4. Buy Equipment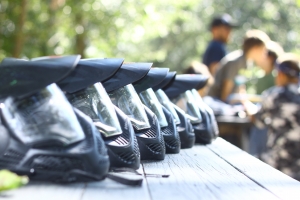 So, you've survived your first game and can't wait to play again. The competition, adrenaline rush, strategy, teamwork–it's all in your ballpark. It's time to buy your own equipment when you plan to start playing fairly regularly. The options for markers (paintball guns) are endless and it can be a bit overwhelming to choose your first purchase.
The best thing to do is choose a simple and durable stock marker that you can customize down the line (Tippman A5/X7 or 98 are good starting points). Consider investing in a good mask for your first purchase. These can be pricey, but are very important to safety and comfort. A quality, durable mask will be comfortable, vent better, and last a long time.
5. Don't Make Marker Upgrades Just Yet
Once you make your first purchase, you'll probably be itching to make upgrades and modifications based on recommendations from other players (magazine attachments, response and e-triggers, barrels, grips, sights… the options are endless).  Don't commit to any changes just yet. First you'll want to get more experience playing. Take your new marker out on the field as it was originally designed and get a feel for it to figure out what you like and don't like.
Every player is different and this will become clear with the customizations you choose. For example, you buddy may swear by the distance upgrades he's made to his marker, but you find that you prefer accuracy. Your choice modifications will also depend on the game type you prefer (woodsball, speedball, military, ect.) which also takes time to figure out.
6. Find an Online Community
You'll probably have a ton of questions about getting started and how to improve your game. Check out some message boards (PB Nation, Tippmann forum, Reddit) for a great source of unbiased knowledge. Ask questions about gear, upgrades, safety, experiences, or anything else you're interested in learning about. This community is actually full of players who are looking to share their knowledge to get more people excited about the sport.